Woods Hole Coastal and Marine Science Center > Coastal Model Applications and Field Measurements > Real-time products of near-bottom suspended sediment concentration in the Gulf of Maine
Coastal Model Applications and Field Measurements
coastal ocean processes,open source coastal ocean models, oceanography, ocean modeling, sediment transport
Real-time products of near-bottom suspended sediment concentration in the Gulf of Maine
The U.S. Geological Survey has initiated a program to measure near-bottom sediment concentrations in the Gulf of Maine in collaboration with the University of Maine. The data are collected by the University of Maine Ocean Observing System (UMOOS) and are served in real time through both the UMOOS and the New England Regional Association of Coastal Ocean Observing Systems (NERACOOS) data portals.

The data plots below are made using the NERACOOS Environmental Research Division Data Access Program (ERDDAP) portal. Beam attenuation is calculated from the observations of light transmission and is approximately proportional to the concentration of suspended sediments (the calibration may vary in time depending on particle type). The large peaks in beam attenuation often result from resuspension of bottom sediments by wave-current bottom stress caused by a combination of near-bottom oscillatory currents associated with surface waves and tidal currents. Significant wave height and dominant wave period measured at National Data Buoy Center (NDBC) buoy 44005 provide a measurement of wave conditions in the western Gulf of Maine. Higher and longer period waves create larger bottom stress.

These data are raw and unedited and may contain occasional drop outs, erroneous points, and be affected by fouling of the transmissometer optics. If plots show as a small icon, the NERACOOS server is temporarily unable to service this request due to maintenance downtime or capacity problems. Please try again later. The labels under the plots 'A01 SBE16 - CTD Transmissivity' are automatically provided by the server and refer to the station name, the sensor making the measurement, and the parameters measured.




Beam attenuation at 50 m at Site A (65 m water depth) since 6 June 2015 (left) and last 7 days (right)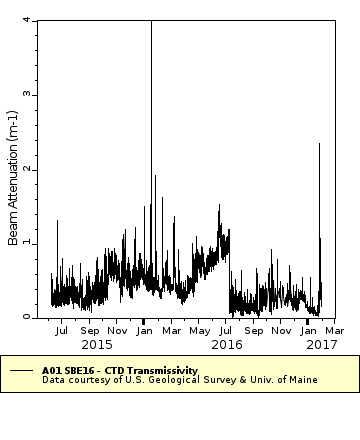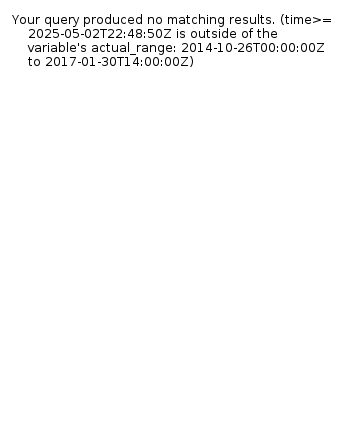 Beam attenuation at 52 m at Site B (62 m water depth) since 6 June 2015 (left) and last 7 days (right)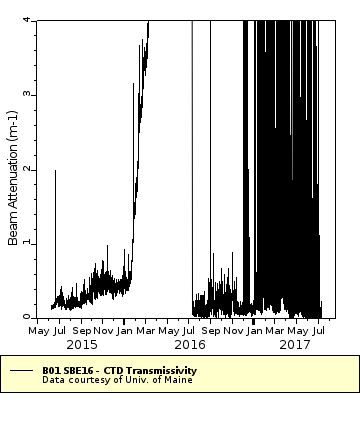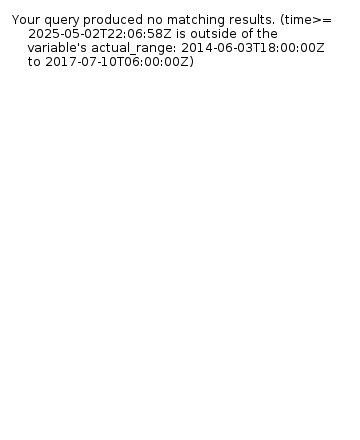 Beam attenuation at 87 m at Site E (100 m water depth) since 6 June 2015 (left) and last 7 days (right)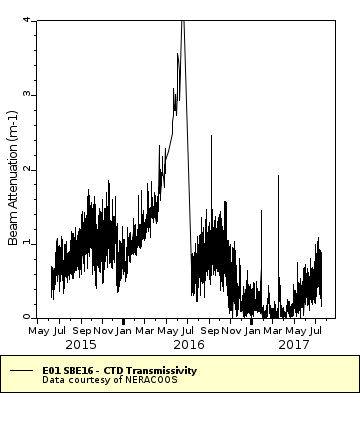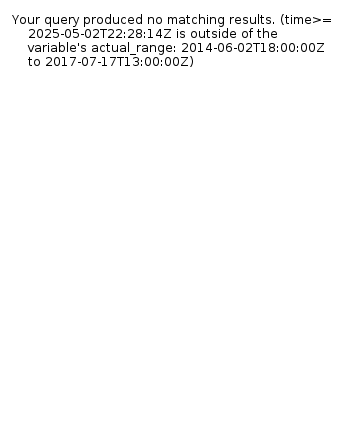 Beam attenuation at 87 m at Site I (100 m water depth) since 6 June 2015 (left) and last 7 days (right)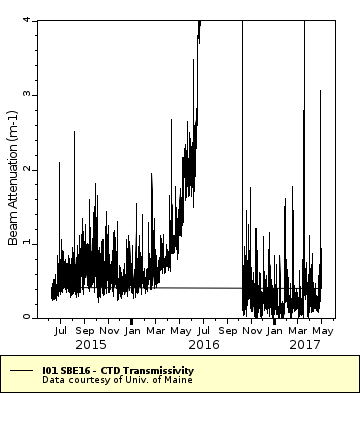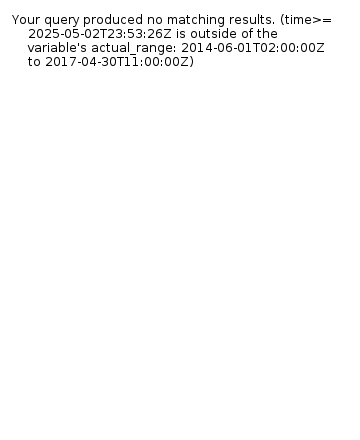 Significant wave height at NOAA 44005 since 6 June 2015 (left) and last 7 days (right)




Dominant wave period (rounded to nearest second) at NOAA 44005 since 6 June 2015 (left) and last 7 days (right)